Mission
The New England Marine Renewable Energy Collaborative (MRECo) is a nonprofit corporation that educates and involves all stakeholders (Academic, industry, governmental/regulatory, and public interest groups) to promote the sustainable development of renewable energy in New England ocean waters.
To do this, MRECo must establish:
Processes and relationships to allow effective transfer of technology from universities to industry.
 A world class academic consortium to train the workforce of the future and to assist industry with basic and applied research.
An industry user group to elicit research needs and to assist in advocating.
Permanent ocean test sites to facilitate research and demonstration.
Involvement of public interest groups to minimize ocean ecosystem impact.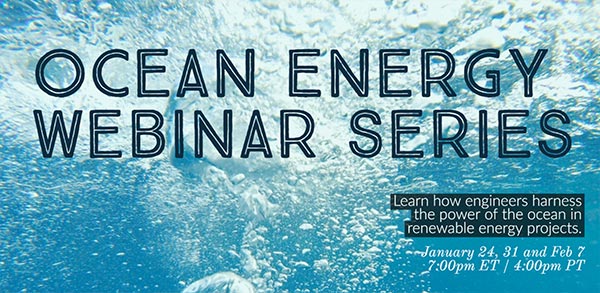 New Ocean Energy Webinar Series
Begins January 24 - Register Now!
The ocean is a vast and almost entirely un-tapped source of energy, and has the potential to be a leading
alternative source of clean, renewable power.
[More information. >>>]
News of Interest!
MRECo will be exhibiting at MATE Regional ROV Competition at the Sandwich STEM Academy, Saturday, May 6, 2017. [See our calendar for details. >>>]
Tech Surge: Production of Renewable Ocean Energy for Small non-grid Connected Applications took place November 2-3, 2016 in Portsmouth, NH. This event was a great success and many thanks to our sponsors, speakers and organizers, especially Marine Technology Society (MTS).  [See our E-News for recap. >>>]
Bourne Tidal Test Site (BTTS): We have received all but the MA Department of Environmental Protection Chapter 91 permit and final approval from the US Army Corps of Engineers to install the BTTS.  [See our E-News for full details. >>>]NERACOOS: In anticipation of transmitting data from the test site we have connected with NERACOOS to host and post our data so that everyone can get access to it. We intend to be pushing out current speed and direction, ADCP data, and energy output.  [See our E-News for full details. >>>]
Bourne Tidal Test Site Receives Preliminary Permit from FERC (Marion, MA) On September 22, 2016, The Bourne Tidal Test Site is now a bit closer to reality. The  Marine Renewable Energy Collaborative (MRECo) was notified by the Federal Energy Regulatory Commission (FERC) that it has been approved for a preliminary permit to set up a test site for tidal energy in the Cape Cod Canal. [ Read the story. >>> ]
Tidal Energy Today - September 19, 2016
Bourne tidal site to feed data to NERACOOS
The Northeastern Regional Association of Coastal Ocean Observation Systems (NERACOOS) will host and post the data that will be generated from the Bourne Tidal Test Site in Cape Cod Canal, Massachusetts. The data will be available to professionals, students, and the public on the NERACOOS web site that already hosts data coming from many sources in New England waters, the Marine Renewable Energy Collaborative (MRECo) informed. [ Read the story>>> ]
Purpose
The purpose of  the Marine Renewable Energy Collaborative (MRECo) of New England is to foster the sustainable growth of marine renewable energy (Offshore wind, wave and tide) through Education, Collaboration, and Demonstration. [ learn more ]
Vision
The Marine Renewable Energy Collaborative (MRECo) of New England envisions a future where New England obtains a significant, greater than 5%, of its power from reliable and predictable ocean based renewable energy technologies, and supports the infrastructure for testing that allows the cost effective, rapid commercialization of new sustainable technologies being developed by the rich entrepreneurial environment of the region.
Contact us today to for more information about membership or any other questions you might have.
Share this page!