Mission
The New England Marine Renewable Energy Collaborative (MRECo) is a nonprofit corporation that educates and involves all stakeholders (Academic, industry, governmental/regulatory, and public interest groups) to promote the sustainable development of renewable energy in New England ocean waters.
To do this, MRECo must establish:
Processes and relationships to allow effective transfer of technology from universities to industry.
 A world class academic consortium to train the workforce of the future and to assist industry with basic and applied research.
An industry user group to elicit research needs and to assist in advocating.
Permanent ocean test sites to facilitate research and demonstration.
Involvement of public interest groups to minimize ocean ecosystem impact.
News of Interest!

October 23, 2018
MA Legislature Approves Funding for Tidal Energy Data Transmission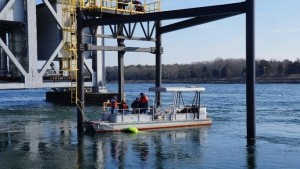 (Marion, MA) MRECo has received word that $205,000 has been included in the Massachusetts Economic Development Bill to put the BTTS on the grid. https://malegislature.gov/Laws/SessionLaws/Acts/2018/Chapter228
When the funds are approved and released by the Governor's office, and permits are approved, work will be done to wire the Bourne Tidal Test Site (BTTS) structure to shore to enable turbines and devices to receive shore power and to produce power to the grid. MRECo is in the process of preparing the Draft Pilot License Application  required by the Federal Energy Regulatory Commission (FERC) in order to obtain grid interconnection.State Senator, Vinny deMacedo was extremely helpful in securing the funds for this innovative project in his district. He stated recently, " I was interested in working with the Marine Renewable Energy Collaborative because of the exciting possibilities associated with renewable energy sources. Working with MRECo has been especially significant due to their ability to attract others in this field with their neutral test site that utilizes the Cape Cod Canal. It is my hope that this approach will lead to the growth of the renewable energy industry in our region which already is home to some of the leading innovators of this technology."
Lieutenant Governor, Karyn Polito's office has been pushing for renewable energy projects and coastal infrastructure investments via the Seaport Economic Council grant program. MRECo is grateful for the vision and long standing commitment that the Baker/Polito Administration has provided to enable MA to become a leader in clean energy innovation.
In addition, MRECo is working with MassMaritime Academy to provide testing capabilities for university researchers and startup companies as well as training opportunities for students. These activities are in concert with making Massachusetts the go-to spot for developing new ocean energy technologies.
Follow this link for a printable version of this press release. >>>
# # #
State Senator Vinny de Macedo, Plymouth and Barnstable Districts serves in a leadership position as the Ranking Minority Member on the Senate Committee on Ways and Means, a key Senate committee which reviews all legislation related to the state's finances as well as other important issues. He is also the Ranking Minority Member on the Joint Committee on Ways and Means where he serves as one of 6 members on the annual Budget Conference Committee.  He has been a strong and consistent voice for fiscal responsibility. The Plymouth and Barnstable State Senate District includes the communities of Bourne, Falmouth, Kingston, Pembroke, Plymouth, and Sandwich.
The New England Marine Renewable Energy Collaborative (MRECo) is a nonprofit corporation that educates and involves all stakeholders (Academic, industry, governmental/regulatory, and public interest groups) to promote the sustainable development of renewable energy in New England ocean waters. The Bourne Tidal Test Site is located near the railroad bridge in the Cape Cod Canal outside of the navigational channel.
Information Contact: John Miller, Ex. Director Marine Renewable Energy Collaborative (508.728.5825)
Maggie Merrill, Communications Director, MREC0 (617.306.2764)

Office of Energy Efficiency & Renewable Energy

Energy Department Selects Six Awardees for $6.7 Million in Marine Energy Funding
JUNE 8, 2018
The Energy Department today announced six awardees selected to receive a total of $6.7 million in federal funding to support the development of innovative technologies capable of generating reliable and cost-effective electricity from U.S. water resources. Each award had been selected as an alternate in a previous funding opportunity.This funding comes from the Office of Energy Efficiency and Renewable Energy's (EERE) Water Power Technologies Office. A key goal of the water office is driving down the cost of energy from marine energy devices. Marine energy technologies are at an early stage of development due to the fundamental scientific and engineering challenges of generating power from complex, low-velocity and high-density dynamics in a corrosive operational environment. Improving installation, operation, and maintenance (IO&M) strategies is an essential step toward that outcome. To that end, the Igiugig Village Council (IVC) in Alaska, in partnership with...[ Read the complete story. >>> ]
Researchers Look at Tidal Turbines as Renewable Energy Source
WCAI - Local NPR for the Cape, Coast & Islands
By SARAH TAN - 5/15/2018
With its rushing current and ever-changing tides, the Cape Cod Canal has become the country's first test site for a new kind of renewable energy source. Researchers at the University of Rhode Island and the Marine Renewable Energy Collaborative hope that soon they'll be able to add tidal energy to the list of renewable energy sources, and the canal could be the place where companies test prototypes...
[ Follow this link to hear the broadcast and read the full story! >>> ]
Check out MRECo's end of summer News! >>>
MRECo Seeks Funding for Students, Interns and STEM Project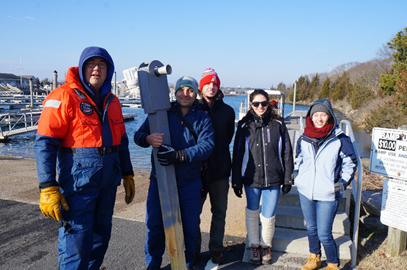 In keeping with our outreach strategy, we are spreading the word to educate the public and engage more students via STEM, internships and student projects at the Bourne Tidal Test Site. Funding is challenging in this nascent industry, therefore crowd funding for these items has become an option.
Please take a look at us on Chuffed.org
(https://chuffed.org/project/ocean-energy-for-new-england#) and consider making a donation of whatever size to show your support for clean renewable ocean energy education and development right here in New England.  Thank you!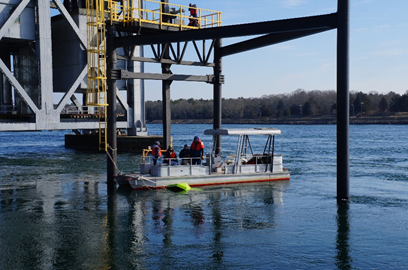 Purpose
The purpose of  the Marine Renewable Energy Collaborative (MRECo) of New England is to foster the sustainable growth of marine renewable energy (Offshore wind, wave and tide) through Education, Collaboration, and Demonstration. [ learn more ]
Vision
The Marine Renewable Energy Collaborative (MRECo) of New England envisions a future where New England obtains a significant, greater than 5%, of its power from reliable and predictable ocean based renewable energy technologies, and supports the infrastructure for testing that allows the cost effective, rapid commercialization of new sustainable technologies being developed by the rich entrepreneurial environment of the region.
Contact us today to for more information about membership or any other questions you might have.
Share this page!
Select any image to view larger.