Welcome to the Marine Renewable Energy Collaborative!
Mission
The New England Marine Renewable Energy Collaborative (MRECo) is a nonprofit corporation that educates and involves all stakeholders (Academic, industry, governmental/regulatory, and public interest groups) to promote the sustainable development of renewable energy in New England ocean waters.
To do this, MRECo must establish:
Processes and relationships to allow effective transfer of technology from universities to industry.
 A world class academic consortium to train the workforce of the future and to assist industry with basic and applied research.
An industry user group to elicit research needs and to assist in advocating.
Permanent ocean test sites to facilitate research and demonstration.
Involvement of public interest groups to minimize ocean ecosystem impact.
News of Interest!
Office of Energy Efficiency & Renewable Energy
Energy Department Selects Six Awardees for $6.7 Million in Marine Energy Funding
JUNE 8, 2018
The Energy Department today announced six awardees selected to receive a total of $6.7 million in federal funding to support the development of innovative technologies capable of generating reliable and cost-effective electricity from U.S. water resources. Each award had been selected as an alternate in a previous funding opportunity.This funding comes from the Office of Energy Efficiency and Renewable Energy's (EERE) Water Power Technologies Office. A key goal of the water office is driving down the cost of energy from marine energy devices. Marine energy technologies are at an early stage of development due to the fundamental scientific and engineering challenges of generating power from complex, low-velocity and high-density dynamics in a corrosive operational environment. Improving installation, operation, and maintenance (IO&M) strategies is an essential step toward that outcome. To that end, the Igiugig Village Council (IVC) in Alaska, in partnership with... [ Read the complete story. >>> ]
Researchers Look at Tidal Turbines as Renewable Energy Source
WCAI - Local NPR for the Cape, Coast & Islands
By SARAH TAN - 5/15/2018With its rushing current and ever-changing tides, the Cape Cod Canal has become the country's first test site for a new kind of renewable energy source. Researchers at the University of Rhode Island and the Marine Renewable Energy Collaborative hope that soon they'll be able to add tidal energy to the list of renewable energy sources, and the canal could be the place where companies test prototypes... [ Follow this link to hear the broadcast and read the full story! >>> ]
MRECo Executive Director, John Miller was interviewed by Sarah Tan at WCAI-Woods Hole, MA. Tan wanted to know what is happening with tidal energy world wide, in the US and at the Bourne Tidal Test Site located in the Cape Cod Canal. The story will be combined with a field interview Tan will make to the BTTS later next week (weather dependent).
For Immediate Release [ Follow this link for a printable version of this news release. >>> ]Info Contact: Maggie Merrill Communications Manager, MRECo; comms@mreconewengland.org, 617-306-2764


University of Rhode Island Students Retrieve ADCP at Bourne Tidal Test Site

As part of a research project, entitled, "Assessment of the Tidal Energy at a Demonstration Site: Cape Cod Canal, MA, URI doctoral student, Soroush Kouhi and three URI Ocean Engineering students went out to the Bourne Tidal Test Site Friday Jan. 19, 2018 to retrieve the Acoustic Doppler Current Profiler (ADCP) that was deployed one month ago to take water column velocity data. The data will be analyzed  to show what the water velocities were for 30  days. The high resolution data will be correlated to result in a projected energy power output. Determining projected power output for a tidal testing area is important because when device developers install their own turbines at the BTTS, they can compare data from their turbine to the actual energy output recorded by the URI team. Of course every turbine is different but all designers hope to top or match their previous power output results.

The Teledyne ADCP is enshrouded in a bottom mount frame – called a Trawl Resistant Bottom Mount - that is very rugged and is easy to deploy and recover. It was simply placed overboard, fell to the seafloor, was tethered to the BTTS structure and left to collect data for the past month. As with anything that enters the challenging marine environment, the ADCP was seen being buffeted by the currents and the ice floes that move by with the current. Mercifully its buoyancy bladder deployed on target and it floated to the surface for retrieval. "Now we have the hard work to do. We have to get all the data, analyze and process it and determine next steps. This will take a month or so" said Kouhi.

While out there, the team lead by MRECo's BTTS Site Manager C. Eben Franks installed is a downward looking sea surface level sensor that will correlate tidal heights with the water velocities recorded underwater by the ADCP. All of this data will be combined to further characterize the water flow environment at the BTTS.

[ Follow this link for a printable version of this news release. >>> ]
Check out MRECo's end of summer News! >>>
MRECo Seeks Funding for Students, Interns and STEM Project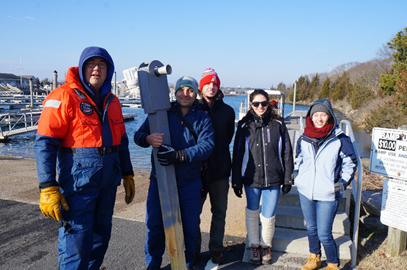 In keeping with our outreach strategy, we are spreading the word to educate the public and engage more students via STEM, internships and student projects at the Bourne Tidal Test Site. Funding is challenging in this nascent industry, therefore crowd funding for these items has become an option.
Please take a look at us on Chuffed.org
(https://chuffed.org/project/ocean-energy-for-new-england#) and consider making a donation of whatever size to show your support for clean renewable ocean energy education and development right here in New England.  Thank you!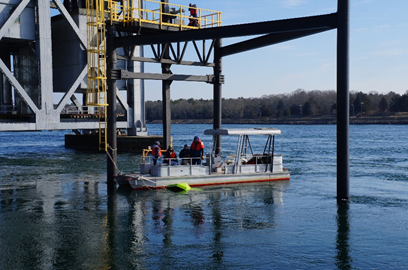 Purpose
The purpose of  the Marine Renewable Energy Collaborative (MRECo) of New England is to foster the sustainable growth of marine renewable energy (Offshore wind, wave and tide) through Education, Collaboration, and Demonstration. [ learn more ]
Vision
The Marine Renewable Energy Collaborative (MRECo) of New England envisions a future where New England obtains a significant, greater than 5%, of its power from reliable and predictable ocean based renewable energy technologies, and supports the infrastructure for testing that allows the cost effective, rapid commercialization of new sustainable technologies being developed by the rich entrepreneurial environment of the region.
Contact us today to for more information about membership or any other questions you might have.
Share this page!
Select any image to view larger.
ADCP deployments this summer, going well!
Hyline Canal Cruise boat running by the Bourne Tidal Test Site.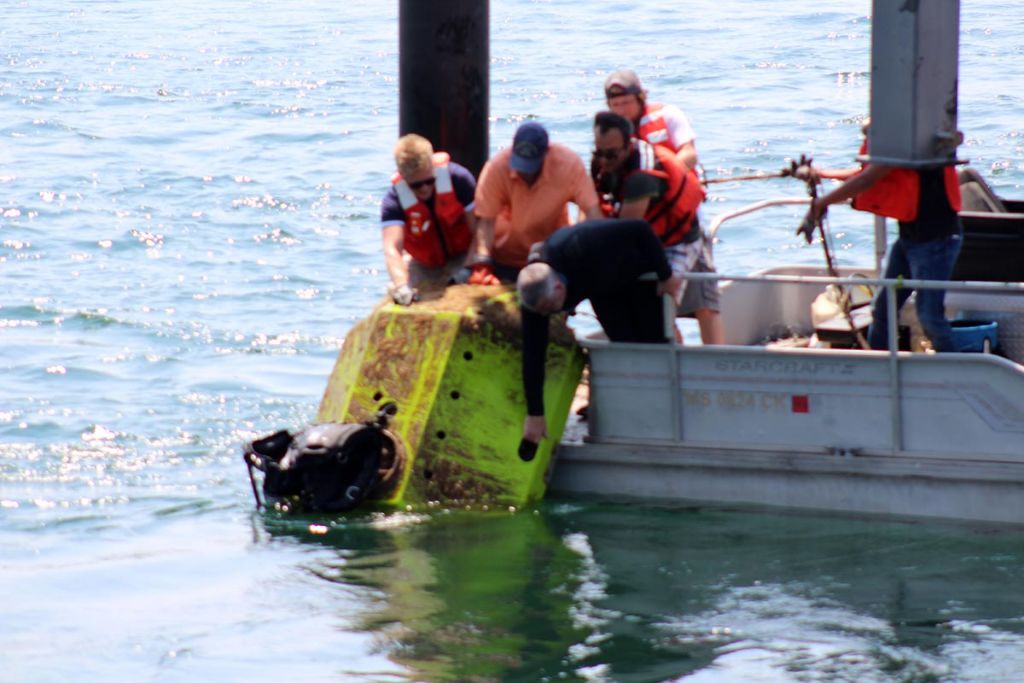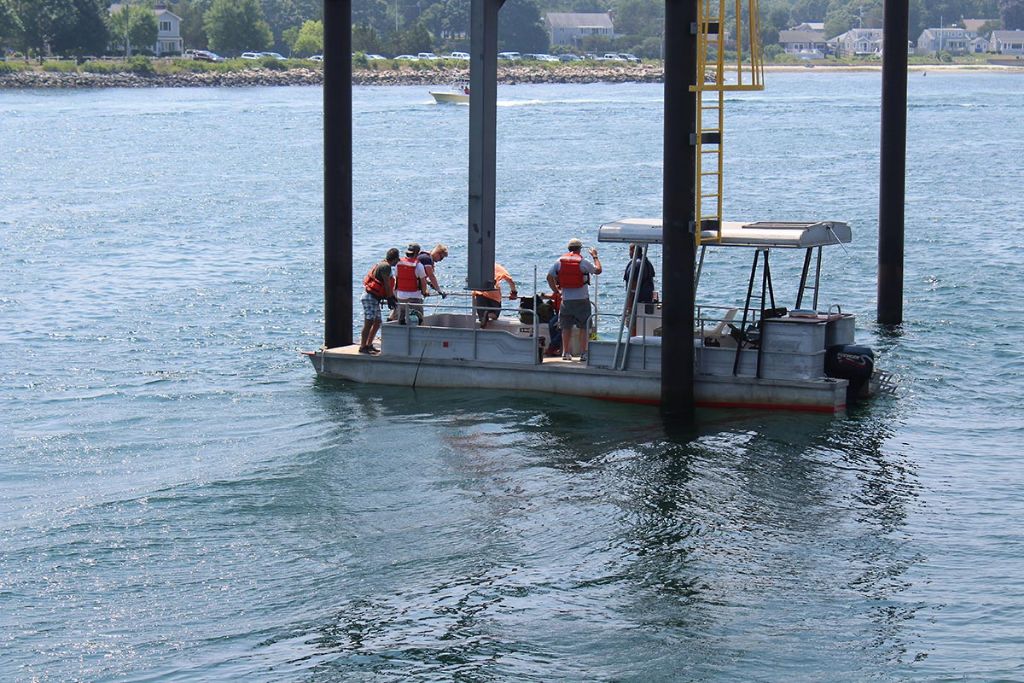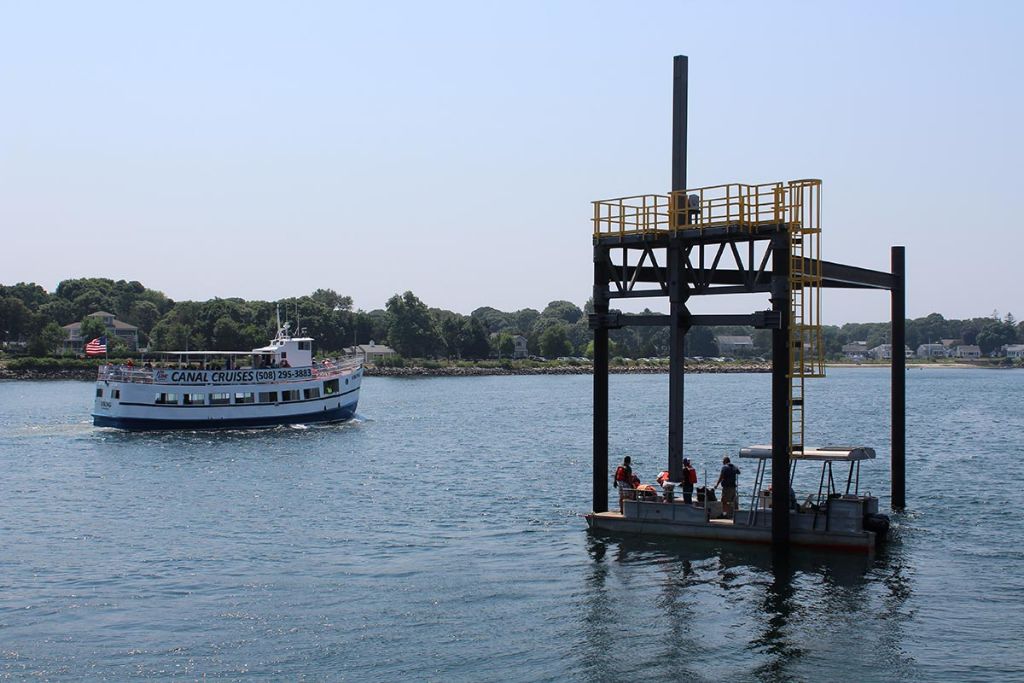 Photos from the Bourne Tidal Test Site