Welcome to the Marine Renewable Energy Collaborative!

John Miller, Executive Director
Topic: Harnessing Tidal Energy; The Cape Cod Railroad Bridge Test Site
The New England Marine Renewable Energy Collaborative (MRECo) is a nonprofit corporation that educates and involves all stakeholders (Academic, industry, governmental/regulatory, and public interest groups) to promote the sustainable development of renewable energy in New England ocean waters.
To do this, MRECo must establish:
Processes and relationships to allow effective transfer of technology from universities to industry.
 A world class academic consortium to train the workforce of the future and to assist industry with basic and applied research.
An industry user group to elicit research needs and to assist in advocating.
Permanent ocean test sites to facilitate research and demonstration.
Involvement of public interest groups to minimize ocean ecosystem impact.
News of Interest!
For Immediate Release
June 25, 2022
Contact: John Miller, Executive Director, MRECo 508-728-5825; director@mreconewengland.org
Congratulations to URI for Receiving TEAMER Acceptance
The Marine Renewable Energy Collaborative of New England (MRECo) congratulates the University of Rhode Island (URI) for its recent acceptance into the US Department of Energy's Testing Expertise and Access for Marine Energy Research (TEAMER) program. Click on the following link for more details about TEAMER   https://teamer-us.org/product-category/tank-basin/
TEAMER funding enables technology developers to conduct tests at URI's Ocean Engineering Department facilities including at its wave tank, wave-current flume, and acoustic tank. There is no charge to clients who choose to use URI facilities. TEAMER reimburses URI's fees directly.    In addition to increasing collaborative R&D projects with experts and faculty members, URI students  will have opportunities to work directly with technology developers and gain valuable experience which can be applied when they are ready to join the rapidly-growing marine renewable energy workforce.
MRECo's Bourne Tidal Test Site (BTTS) located at the southern end of the Cape Cod Canal has been recommended for TEAMER acceptance, pending National Environmental Policy Act (NEPA) review. Once the NEPA review has been completed, BTTS will provide a unique open water, yet close-to-shore, prototype testing facility for tidal and current energy devices and many types of marine sensors and underwater communication devices. The BTTS will provide clients with the infrastructure and support needed for Technology Readiness Level (TRL) gated development for mid-scale prototype testing in a relevant open water environment. https://www.mreconewengland.org
MRECo is dedicated to the sustainable development of marine energy in New England and is focused on providing the first permanent tidal energy test stand in the United States. Southeast Massachusetts and Rhode Island are globally recognized as centers for the development and testing of innovative marine technologies.
According to John Miller, Executive Director of MRECo, "the intellectual capital represented by the universities in New England provided much of the technology that powers today's solar and wind generation.  This infrastructure in New England coupled with TEAMER funding for testing will provide the same acceleration to marine renewables."
###
First Tidal Turbine Deployed at Bourne Tidal Test Site
August 5, 2021
The Bourne Tidal Test Site (BTTS) welcomed its first test turbine after the COVID shutdown. The first turbine deployed at the BTTS was a conceptual design provided by Littoral Power Systems, Inc. of New Bedford. 
https://www.littoralpower.com/
 Two additional turbines were scheduled to be installed in 2020, but both were cancelled due to COVID 19 logistics. MRECo continues to receive inquiries from turbine developers in the US and from foreign entities because the BTTS offers a stable platform with near laboratory conditions in ocean water. [ 
Read the full story in our August newsletter. >>>
]
Sensors Can Be Tested Economically on the Massachusetts Ocean Sensor Test Bed
August 5, 2021
There is a new test site for marine sensors in Massachusetts. This past June, the MRECo operations team, lead by Eben Franks, installed sensors to monitor water conditions and fish behavior at the Massachusetts Ocean Sensor Testbed (MOST) located in the Cape Cod Canal. [ Read the full story in our August newsletter. >>> ]
MRECo Welcomes Three Board Members
August 5, 2021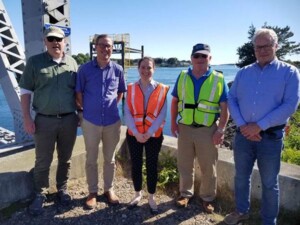 Photo: Officers and New MRECo Board Members, left to right, new Director David Duquette, Board President Steve Barrett, new Director Andrea Brady, Executive Director John Miller and Treasurer Bill Staby. Not picture is new Board Member Ray Schmitt. [ Read the full story in our August newsletter. >>> ]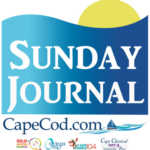 Sunday Journal – Tidal Power with Marine Renewable Energy Collaborative
Hear Executive Director of the Marine Renewable Energy Collaborative, John Miller, on Sunday Journal PodCast from August 29, 2021. John spoke about the organization's recent test of the Bourne Tidal Test Site. [ Listen now. >>> ]
Download MRECo Informational Flyers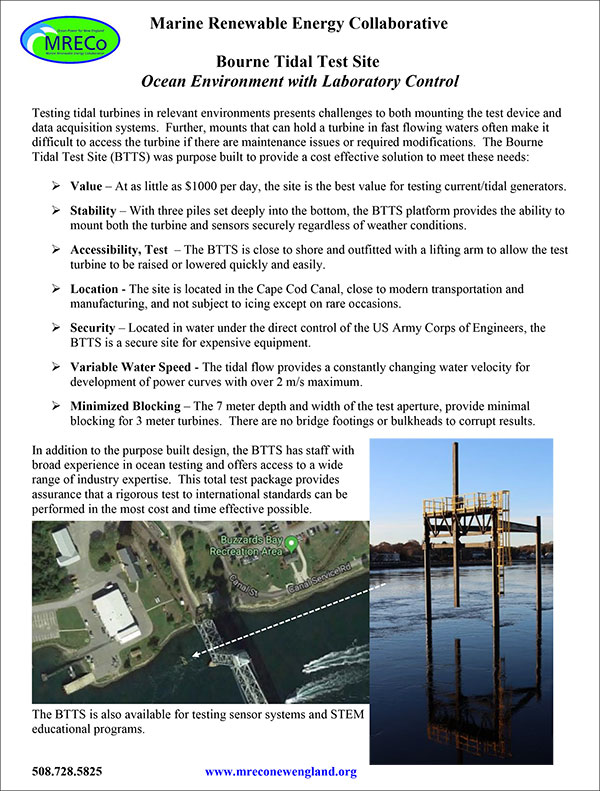 Get Flyer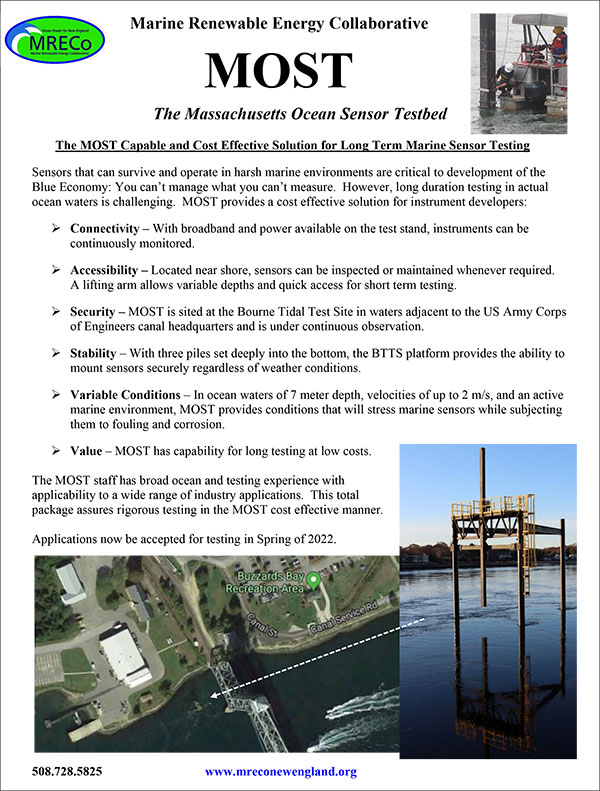 Get Flyer
MRECo works with students, interns and STEM projects.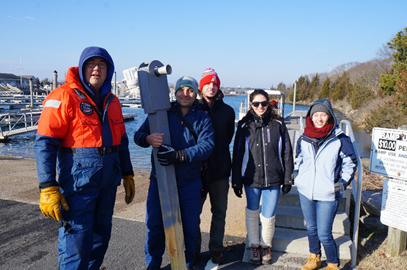 In keeping with our outreach strategy, we are spreading the word to educate the public and engage more students via STEM, internships and student projects at the Bourne Tidal Test Site.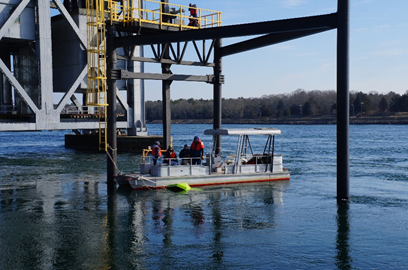 Purpose
The purpose of  the Marine Renewable Energy Collaborative (MRECo) of New England is to foster the sustainable growth of marine renewable energy (Offshore wind, wave and tide) through Education, Collaboration, and Demonstration. [ learn more ]
Vision
The Marine Renewable Energy Collaborative (MRECo) of New England envisions a future where New England obtains a significant, greater than 5%, of its power from reliable and predictable ocean based renewable energy technologies, and supports the infrastructure for testing that allows the cost effective, rapid commercialization of new sustainable technologies being developed by the rich entrepreneurial environment of the region.
Contact us today to for more information about membership or any other questions you might have.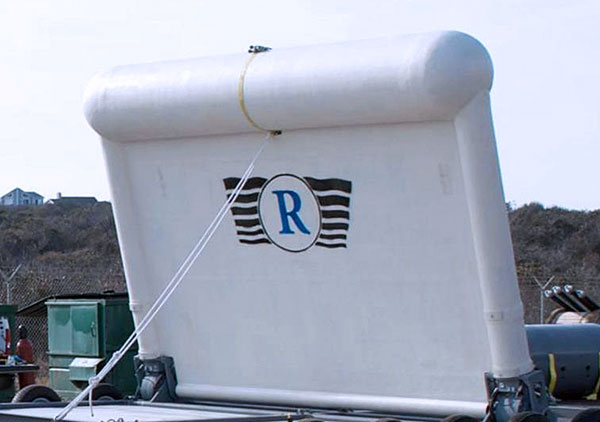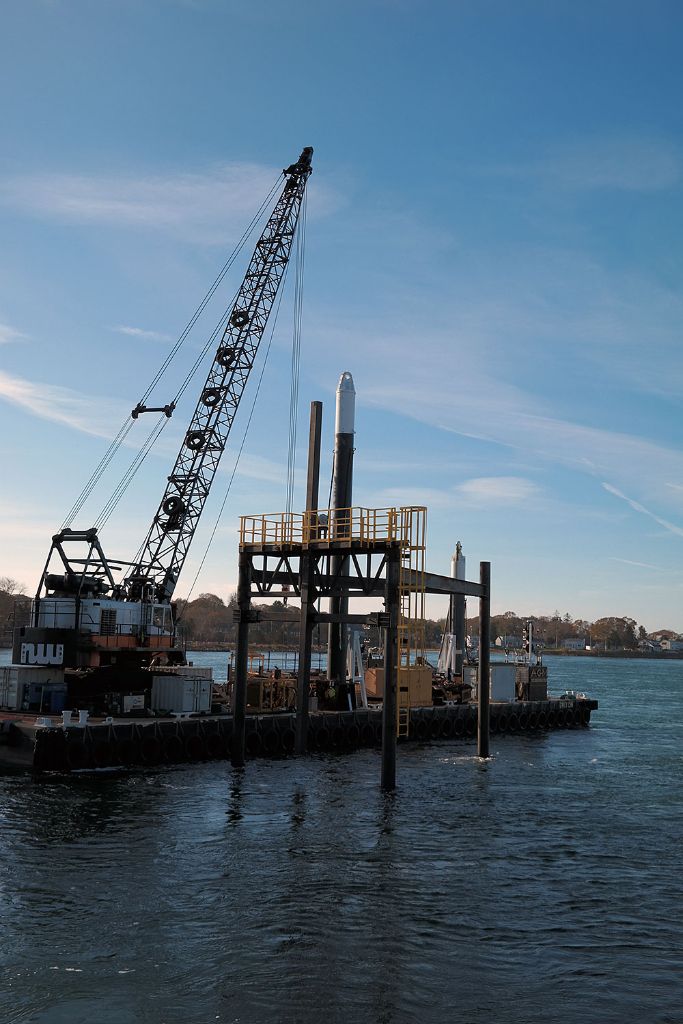 Check out our gallery from the November 2017 BTTS installation.