Welcome to the Marine Renewable Energy Collaborative!
Mission
The New England Marine Renewable Energy Collaborative (MRECo) is a nonprofit corporation that educates and involves all stakeholders (Academic, industry, governmental/regulatory, and public interest groups) to promote the sustainable development of renewable energy in New England ocean waters.
To do this, MRECo must establish:
Processes and relationships to allow effective transfer of technology from universities to industry.
 A world class academic consortium to train the workforce of the future and to assist industry with basic and applied research.
An industry user group to elicit research needs and to assist in advocating.
Permanent ocean test sites to facilitate research and demonstration.
Involvement of public interest groups to minimize ocean ecosystem impact.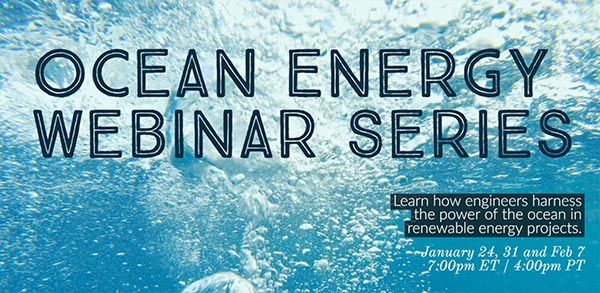 New Ocean Energy Webinar Series
Begins January 24 - Register Now!
The ocean is a vast and almost entirely un-tapped source of energy, and has the potential to be a leading
alternative source of clean, renewable power.
[See our E-News for webinar details. >>>]
News of Interest!
Purpose
The purpose of  the Marine Renewable Energy Collaborative (MRECo) of New England is to foster the sustainable growth of marine renewable energy (Offshore wind, wave and tide) through Education, Collaboration, and Demonstration. [ learn more ]
Vision
The Marine Renewable Energy Collaborative (MRECo) of New England envisions a future where New England obtains a significant, greater than 5%, of its power from reliable and predictable ocean based renewable energy technologies, and supports the infrastructure for testing that allows the cost effective, rapid commercialization of new sustainable technologies being developed by the rich entrepreneurial environment of the region.
Contact us today to for more information about membership or any other questions you might have.
Share this page!
Contact: Maggie Merrill @ MRE Committee Chair at maggielmerrill@gmail.com